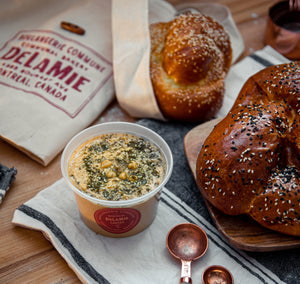 PLEASE SEND ME A DELECTABLE SWEET PACKAGE EVERY WEEK COMPLETE WITH:
1 large challah
1 challah roll
1 large savory spread
Free delivery
You can expect your bag to be delivered every Friday between 11AM - 3PM. If you're not home that time, we'll leave your order at your doorstep in our super awesome reusable bag.
Your bag is weekly by default, but you can pause it with one click in your account settings, or suspend deliveries for longer if you're traveling. And you can cancel anytime too. Just be sure to make any changes before 12pm on Tuesday for delivery on Friday.