Bread is essential and so is every individual
Our bakers are full of talent, creativity, humor and dashing good looks. The only thing they lack is opportunity, and that 's all about to change. DeLaMie is a social enterprise creating vocational opportunities & empowering young people with special needs to bake, package and sell just the best bread ever!
A weekly bag of baked goodness
Here's how it works. You decide how much baked goodness you'd like to receive each weekend and select your preferred option. That 's when the fun begins. Our bakers will get started doing what they love and each week you'll get our hand-delivered bag with everything you need for a delicious weekend.

Your bag is weekly by default, but you can pause it with one click in your account settings, or suspend deliveries for longer if you're traveling. And you can cancel anytime too. Signing up is free, so is pausing or canceling your deliveries.
Subscribe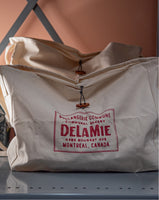 Shop
The Sweet

1 large challah
1 challah roll
1 large babka
Free delivery

The Savory

1 large challah
1 challah roll
1 large savory spread
Free delivery

The Full Monty

1 large challah
2 small challah rolls
1 large babka
1 large savory spread
Free delivery